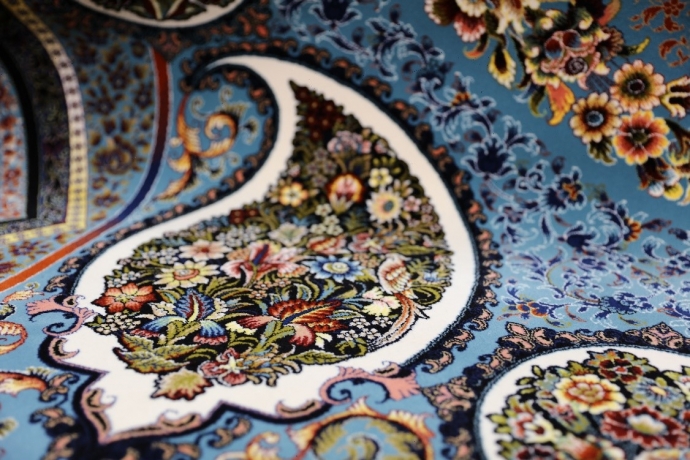 Knowledge before buying machine made carpet
Obviously, the most important component in the interior design of the house is the flooring. You can provide a comfortable and ideal home environment by choosing a perfect carpet for your house. But what can be done to achieve this peace?
There are many factors to consider when buying a machine made carpet for your home or workplace. First, consider the quality and the amount of money you want to spend. Both factors, especially cost, are helpful in deciding whether to buy a machine made carpet or hand-made carpet.
To buy the right machine made carpet you need to be familiar with your lifestyle. The lifestyle of each person differs from others. You may have children at home, or you have a high commute, or you do exercise at home. If you are one of these people, I suggest you using dark, almost crowded carpets that show less dirt, but if you are single or your family is small and you do not have high commute you can use low density and light background carpet.
In order to find out information about carpet for making a wise purchase, here are some things in this article that are a good guide for making a better choice for you.
For weaving a machine made carpet, we require a map or design that the carpet weaving machine can read it, so the computer needs to be involved in the carpet weaving industry at this time. This will accelerate the production of machine and industrial carpets in factories such as Toos Carpet Company.
First, the design or plan needs to be entered via the photo input tools into the computer system, then the design needs to be edited and painted, and if the color and layout is favorable, it is ready to be sent to the carpet weaving industry.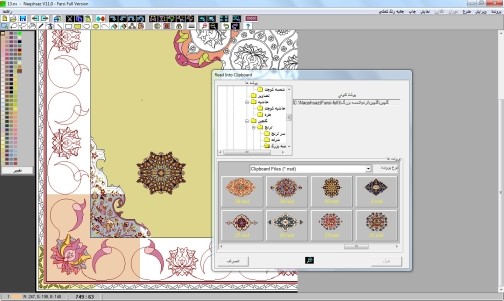 By dividing the design of a carpet into four equal parts, we find that all four parts are exactly the same, so we can choose only one part from each of the four parts and use the rest from the same original map drawing. So you can see that the computer map design of the carpet is much easier.
According to studies on Iranian machine made carpet, the fabric of the first machine made carpet came into existence almost forty years ago in Iran about the fiftieth century. They were manufactured with very lustrous and glossy synthetic fibers by velvet machines.
With the arrival of the carpet and its popularity in Iran, people have been welcomed. The founders, factory owners and well-known capitalists of the country set up a carpet company.
After that, the machine made carpet weaving was stagnant and for a long time the industry did not have much activity until in 57 the textile experts with the help of some factories began to revive the carpet industry.
Raw materials used in this industry have special characteristics and have changed a lot from the past to the present. Polyester as a polymer material is made of ethylene terephthalate.
Properties of polyester in the machine made carpet industry:
It has no lint.

For children with delicate skin is without allergies.

It has very resistant to washing.

It is soft and delicateness.

Prevents the growth of bacteria and germs.

It is insulated against heat and cold.

In very stable in acidic conditions.

It is resistant to chemical detergents and completely harmless to consumers.
Today polyester is used in many industries:
Machine made carpet

Clothing Industry

Weaving curtains

Flooring
Various fibers are also used in carpet weaving. We intend to focus on the high quality fibers used in the classic silk carpet.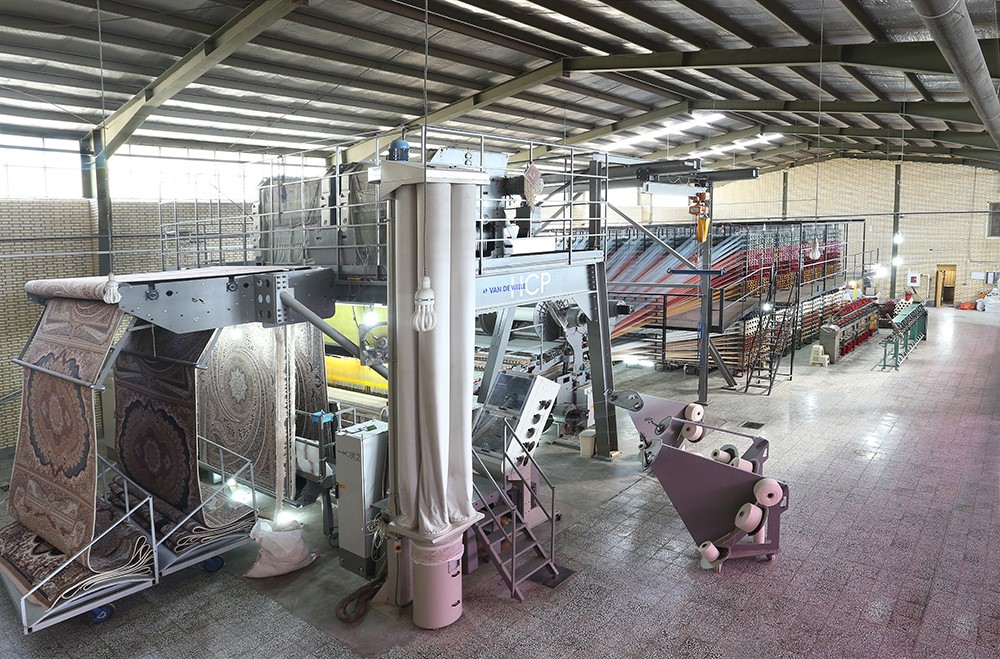 The classic silk carpet has been merged with the art of carpet weaving in the past with a new textural method. The real silk is not used in the texture of these carpets and they use synthetic silk fibers. The synthetic silk fibers are of high quality and luminosity and the characteristics of this type of carpet are very different from other carpets.
Classic silk machine made carpet features:
it is made from synthetic silk or polyester fibers and has high quality and luminous

It doesn't travel on different levels

It is easy to wash

It is resistant to direct sunlight

they are anti-allergies and suitable for people with allergies

it is very light

Its color remains constant in the wash

It is resistant to erosion.
Classic silk carpet color and color variations are great and if you are thinking of changing the interior of your home and want to use beautiful, durable and varied carpets, the best choice is the classic silk carpet that is a prime example of old carpet weaving art and merging with the new industry. With the advent of machine made carpet weaving and carpet weaving, despite the quality and popularity of hand-woven carpets, people have been drawn to machine made carpets because there is the variety in designs and different colors in this carpets.
Machine made carpet like hand made one:
With growth of carpet weaving industry, most of carpet companies are trying to improve quality and variety in such a way that manufactured machine made carpets are looks like a handmade carpet and they are called handmade carpets.
Classic acrylic carpets whose quality, material, design and texture are so great in such a way that they have attracted many fans from worldwide.
In the texture of classic acrylic machine-made carpet acrylic synthetic fabric are used acrylic that resemble to wool.
One of the unique features of acrylic woven carpets is that nothing happens to it with indirect heat such as a hot dish.
Acrylic Classic Machine made Carpet Characteristics:
Variety in color and design

Non-absorption of moisture

Resistance in humid areas
Each carpet has a number of characteristics and features that make it known, including the characteristics of reed and the density of the carpet.
Each carpet has two types of density. Transverse density and longitudinal density of carpets. The transverse density, or so-called carpet reed, is the number of roots in a meter of rug width. Conventional and common transverse densities in the market are 500, 700, 1000, 1200 reeds.
The number of carpet reeds is related to the finer texture of the carpet .The more the number of carpet, the more fine-textured the carpet is and the design is more crowd and this type of machine made carpet are so-called handmade carpet .this type of carpet resembles to handmade carpet.
The differences of density of the carpet and the reeds: the more the carpet's reeds, the more the root and the design and the plan is more difference. The higher the density of the carpet, the carpet is denser and heavier.
In general, when buying a machine made carpet for choosing a carpet, there are two basic things to consider: carpet beauty and carpet durability. 700 reeds machine made carpet is made of thinner yarns, giving the carpet less durability and more elegance.
One of the densest carpets imported into Iran is Belgian carpets. These types of carpets have used Iranian fibers and designs. They are very light and have low price. The raw materials of the Belgian carpet are viscose, which is not good quality, and after each wash the carpet is linted. To wash these types of carpets, be sure to send it a valid carpet cleaning.
One of the weaving machines used in the market is the HCPX2 machine made carpet machine. Manufacturer of carpet machine, model HCPX2 from van de wiele is manufactured with the aim of design and texture of quality machine made carpet and with role of Iranian handmade carpet. The output of this quality machine and with beautiful design is very close to handmade carpets.
In the machine of machine made carpet, model HCPX2, is used from jacquard model MJ with high capacity and programmable for 24000 pile yarns in 700 reeds carpets , 8 colors and 4 meters in height or 500 reeds carpets with 10 colors.
In this machine, we can choose the type of weft yarn, material, thickness or thinness of yarn, so this will increase weft density of carpet in order that the back of carpet becomes sharper and more textured.
The options designed in this machine, make easy the duty of weaver and also it is one of the machines with the less waste, it prevents from waste of yarn as much as possible.
The machine made carpet machine is compatible with all fibers and can be easily woven carpets and carpet board with fibers such as wool, acrylic, polyester, polypropylene, silk, viscose ... by this machine. According to report of Van de Wiele Company, the production of the machine, model HCPX2 is twice as high as that of other machines.
Machine-made carpets, which have been manufactured in recent years, are considered as competitors to Iranian hand-made carpets, making customers eager to purchase these types of carpets.
In most Iranian homes, carpets are one of the indispensable items of the home and according to the original Iranian art, machine made carpets are designed in a variety of designs and plans based on Iranian-Islamic designs that are based on Iranian original culture and make the beauty of home decoration double. Machine made carpet with high quality and variety and affordable price can be used in different decorations.
The variety of colors used in Toos Mashhad machine made carpet is 8 and 10 colors depending on the design and plan. This company uses from nature and color spectrum in its carpets.
The material of pile yarn used in the carpet is 100% heat set acrylic from Germany and its weft yarn is cotton ring.
In this article, we tried to provide some information about buying a carpet as well as its technical description so that you dear reader will know and make the right purchase when buying a carpet.