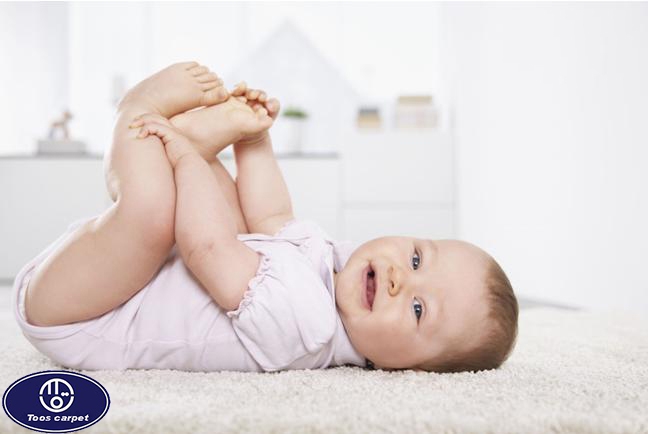 When buying a carpet, be careful about the fibers that make it up!!
The importance of quality and fibers materials of house carpet!!!
In homes where there are children and the elderly, it is very important to rug the floors of rooms and halls. Especially in homes where the toddler grows up because the child has recently learned to walk and is interested in repeating it, the child may fall to the ground while walking, and if the floor is not properly rugged with carpets, the child may be harmed. Also, if the carpet is not made of good fibers, the members of the house, especially children and the elderly, may be seriously harmed over time, including respiratory and pulmonary problems and dangerous diseases such as cancer.
The process of growth and development of carpet
In ancient times, all houses were rugged with hand-woven carpets woven by humans. The fibers of these carpets were perfectly natural fibers found in nature and humans did not interfere in their production. But over the time, with progress of textile and mechanical industry and arrival of weaving machines in the market, the machine made carpet came in the market and grew rapidly.
Today, due to the high cost of natural fibers in handmade rugs, people are turning to buying a carpet. Machine-made carpet fibers are synthetic fibers that do not exist in nature and are man-made. These fibers have various types, that the most popular and widely used fibers are polyester and acrylic fibers. Among the synthetic fibers, the health of acrylic fibers has been confirmed. Because many of our most essential livelihoods are made of petroleum materials and derivatives, we all live on acrylic carpets, and so far no harm has been done to us in this area. Now, assuming acrylic fibers are harmful, how is it possible for Germany's most prestigious and largest standard institution to manufacture the most sensitive types of garments (including baby clothes and socks that directly contact the skin) with acrylic fibers without any problems and gives standard certification to fibers manufacturing in Dralon company.
Can it be accepted that European countries, which usually set the highest standards for health and safety, can only issue such licenses and standards for commercial purposes? Acrylic fibers are nowadays known as high quality fibers.
Heat set Acrylic Fibers:
The heat setting process is done solely on acrylic fibers. In heat setting process, the acrylic fibers are first spinned and then embedded in a rail where the fibers are heated by water vapor to a very high temperature. In this process the color of the fibers is stabilized and its quality and brightness are preserved. Meanwhile, these fibers are lint-free and without allergy. The carpet woven with these fibers is very suitable for house and baby room.
Benefits of 100% heat set Acrylic Carpet:
Anti-lint and anti-allergic

Soft and delicate and pleasant when walking on the carpet because of its softness and delicateness

High strength, non-deformation and size of carpet in the long run

Lack of dust absorption and ease of carpet cleaning

Lack of deformation and no burns due to a hot body hit
Toos Mashhad Carpet is the leading manufacturer, supplier in the field of quality machine made carpet
Toos Mashhad Carpet with a long history in the production of handmade and machine made carpets is a pioneer in this profession. Toos Mashhad Carpet Factories uses original and high quality 100% Heat Set fibers in the machine made carpets, so the productions of this company have high quality.
Purchase of original carpet
Behind the carpet there is a standard label which includes the name of the manufacturer, company logo, design name, design code and technical specifications of kid's carpet such as fibers used in the carpet, longitudinal and transverse density, color number, standard mark and so on. .. Is used.
We do our best to provide the branding and the finest quality carpets, so that our dear customer can enjoy the carpet online shopping from Toos Mashhad online store. The strategy of Toos Mashhad Carpet Company is customer oriented and because of the high quality of its products and the carving of quality characteristics behind the carpet, it assures its customers that the product they buy will last for many years without any change in their home. It maintains its beauty, durability and gentleness and attracts homeowners and guests.
From Signs of high reliability and high quality of the product found in Toos Mashhad carpet are the important characteristics behind the machine carpet margin woven by the machine. This feature makes it possible to brand or provide first-grade quality carpet.